Pipeliners: we pass gas for a living
Pipeline quality gas is a standard that quantifies gas to provide an apple-to-apple comparison for customers. It's similar to the gasoline label at the pump that shows 5-6 grades of gasoline — hopefully, you choose one that your engine is tuned for. Does pipeline gas vary like the grades of gasoline? You bet! This chart shows the day-to-day variation that an engine might see as supply changes from shale, to conventional on shore, and off shore supply. How often should you look at the chromatograph readings to check your fuel quality and update your engine control logic? Join us at the Eastern Gas Compression Roundtable, September 14-16, 2021 at the David Lawrence Convention Center in downtown Pittsburgh, PA or contact us for more information.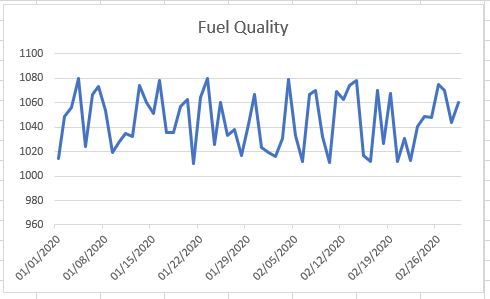 ---
Have a tip? Do you have a technical tip to share? Submit your tip, along with an associated image and we may include it in our Technical Tuesday social media posts, blog posts and emails.