High Quality, Cost Effective Education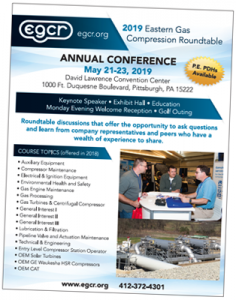 The Eastern Gas Compression Roundtable (EGCR) is a non-profit organization providing the Natural Gas Industry with targeted, industry-specific training programs for entry-level through advanced educational needs. These programs are presented at our annual training and technology conference and focus specifically on engine and compressor maintenance.
Our goal is to meet the needs of industry groups closely involved with Compressor Stations, Marcellus Shale, Utica Shale, Antrim and other associated areas. The conference is promoted by those directly involved in the oil and gas industry.




Gas Compression Industry News
June 2018: Gas Compression Magazine, Haight Report (Brent Haight, Publisher)
Missed Opportunity: Technical conferences remain a viable training tool when used properly. The depth of knowledge and the amount of expertise and experience that gathers under one roof is unmatched by any other opportunity. Read the full article
"Among the biggest challenges facing the industry today is the lack of qualified personnel. From operators to packagers, the sentiment is consistent, "we can't find enough people with the necessary skills to do the job."

---
2018 Course Topics
Auxiliary Equipment
Compressor Maintenance
Electrical & Ignition Equipment
Environmental Health and Safety
Gas Engine Maintenance
Gas Processing
Gas Turbines & Centrifugal Compressor
General Interest I
General Interest II
General Interest Ill
Lubrication & Filtration
Pipeline Valve and Actuation Maintenance
Technical & Engineering
Entry Level Compressor Station Operator
OEM Solar Turbines
OEM GE Waukesha HSR Compressors
OEM CAT
The EGCR features an extensive Vendor Hall, Educational Classes, Annual Golf Event, Monday Evening Reception and a Tuesday evening get together.